Get More Reviews And Customers For Your Business Just By Handing Out A Card
Join Now
Tagggly Is Extremely Easy To Use
Tagggly requires almost no work. You just hand out your review card that we provide and the rest of the system is fully automated. Your business will get more genuine online reviews and more customers simply by handing out your personalized review cards. Join today and get your own cards just like the one below customized for your business. Not only will Tagggly review cards immediately help you get more reviews, they can double as your business cards while providing all the other benefits of more reviews.



You and your employees will be able to quickly hand out a card to happy customers that will go home and have a reminder to leave a review still in their hands. The card sends them to your Tagggly profile site with links straight to your review sites while they are still happy with their experience at your business. Let's face it, people only leave reviews when they're very happy or very upset. Tagggly helps you get reviews from the 90% your customers that are happy but forget to leave you a review.
Join Now
Business Reviews Are Now More Important Than Ever
Ever since Google started showing those little stars in searches, people started to take notice – customers and business owners. Businesses began to ask themselves: What is my business's star rating on Google Maps, Yelp and other popular online review sites? Does my business have enough online reviews? A positive reputation is one of the most powerful assets a business can have and those 5-star reviews will bring you new customers to buy from you.



Get more reviews on Google, Yelp, Facebook, Yellowpages, TripAdvisor, Healthgrades, Angie's List or on any other reviews sites.
How Will Tagggly Help Me?
Let's face it, people only leave reviews when they're very happy or very upset. We help you get reviews from the 90% your customers that are happy but forget that you need their reviews. Attract new customers with more reviews and have your business rank higher in searches. Tagggly is the easiest way to get more Google and Yelp reviews for your business.

Most customers now read online business reviews before they even plan a visit to a business. This means more and more people are searching for and reading reviews on a regular basis. Customers are actively looking for reviews – which is great for businesses that have enough of them. If you don't, Tagggly is designed to help with that, easily and quickly.
Join Now
Get Your Own Profile Site
Your profile site will send your customers to leave reviews and lead them to follow your social media. Get more word of mouth when your customers share your business online. Tagggly will build your profile site automatically with links for your customers to quickly leave real reviews for your business on Google Maps, Yelp and any other review site.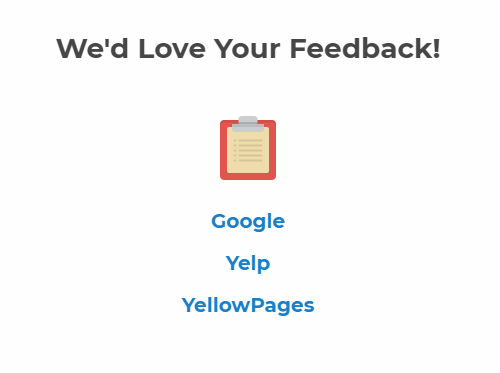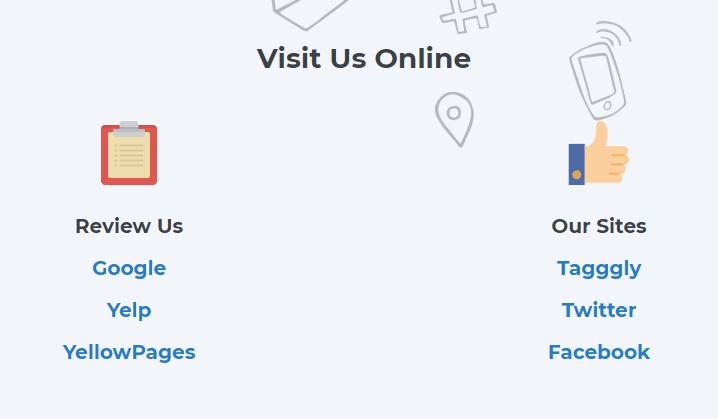 Demo Profile Site
Preview Your Profile Site Now
Search for your business below to see a preview of your own profile site where your customers will visit to leave reviews. You'll be able to customize it and edit your links once you join.
Preview Your Profile Site
Collect Customer Email Addresses Effortlessly
Your profile site that Tagggly will build for you will collect their emails on autopilot and send them special offers you choose to get them to visit again. Encourage them to come back when they want to redeem your special offer. You'll be able to download a list of the email addresses you collected and email them any time with your newsletter to keep them coming back.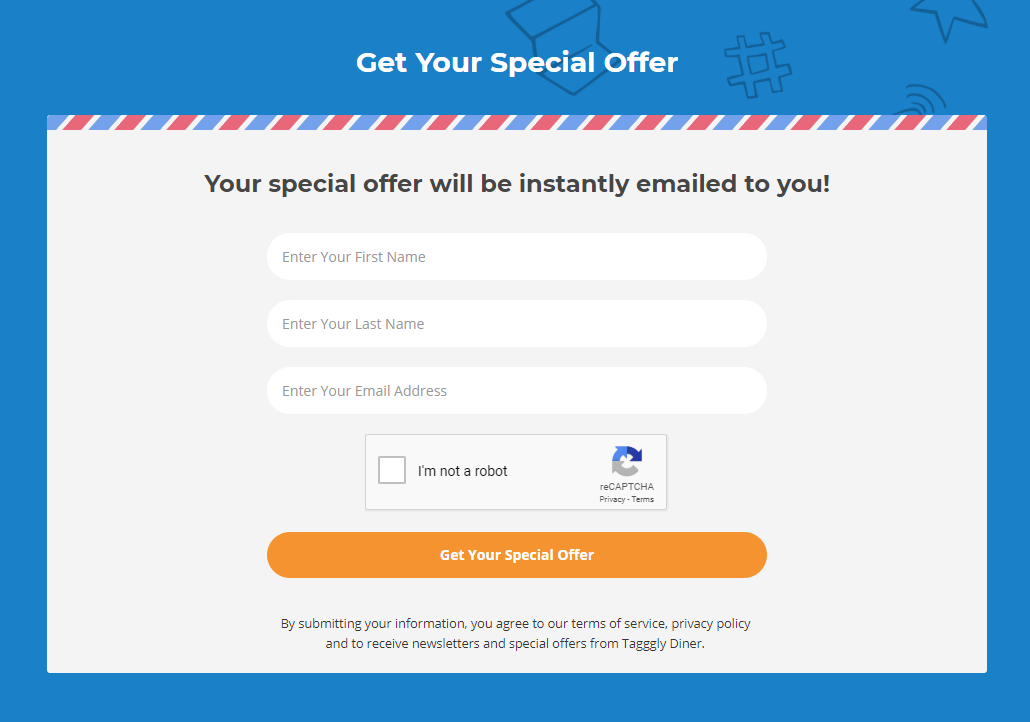 Is Tagggly Right For My Business?
Tagggly is compatible with any business that has a Google Maps, Yellowpages, Yelp, Healthgrades or any other review site. You may link to any review page you would like to. Tagggly helps your business get more reviews, gain more repeat customers and helps you reconnect with your customers even when they have left your business.



We have helped restaurants, bars, doctors, dentists, auto mechanics, law offices, plumbers, clothing stores, florists, gyms and more get more reviews and more customers. Start focusing on your business, leave the work of getting more reviews to us.
Join Now
Watch Live As Customers Leave Reviews
Watch our business clients get more reviews live in the map below. Soon, your business will be increasing its number of reviews just as easily. Tagggly review request cards will help you get more word of mouth and more business quickly.
Now Is The Time To Get Reviews For Your Business
Getting more online reviews from happy customers has many benefits – and that list of benefits keeps growing. Seeing those stars and reading the various online reviews makes it easier for customers to quickly decide whether they're going to visit you or not.

More reviews on Yelp, Google and other sites will place your business higher on search results and build trust with new customers. You can never have too many reviews. In today's market with multiple options and overwhelming data, getting online reviews is a great way to differentiate your business from your competitors and help new customers discover you.



Your business depends on reviews. So if your customers are happy with your service, why not remind them to share that? Tagggly makes sure your customers don't forget to leave a review. Simply hand out your personalized review request card to remind your customers to rate your service. Tagggly is the easiest way to get more reviews for your business.
Join Now
What Our Business Clients Are Saying
We've had phenomenal success with our Tagggly cards. Each new review we get generates more sales. More customers have also been finding us in searches we never showed up in before. - Cory Alfaro, Organic Cafe
Not only was I impressed that our reviews have increased by a significant amount - this service also helped us get 11 brand new patients in a month which we plan to have as patients for a lifetime. - Pam Su, New Vision Dental
It was always awkward asking customers for reviews but these Tagggly cards are very easy for my employees to hand out and we get a few new reviews per day. In our competitive market, each one helps tremendously. - Lauren Starkey, Chips & Ale
When your competitors have thousands of reviews, having Tagggly help me get 2 to 3 times more reviews every week was very important in growing my business quicker and increasing my bottom line. - Kevin Collier, Pecan Bakery
Keeping the momentum going for my new business was difficult before I joined. With theses cards, I was able to keep the new reviews rolling in and the buzz going as I gained long term customers. - Paula Jensen, Yoga With Paula
Get More Reviews With Tagggly

Join now for only $27/month!†
†Order review cards as you need them at an extra cost. Cancel any time.

Here at Tagggly, we believe in giving you an edge:

Easy to use, just hand out your personalized review card
Attract new customers with more reviews, rank higher in searches
Get more word of mouth when your customers share your business online
Encourage them to come back when they want to redeem your special offer
Get more reviews and collect emails just by handing out a card
Extremely affordable, we want to empower businesses
Reconnect with your customers even when they have left your business